STRP looks to the future with an open and critical view. We refuse to flee in a crippling nostalgia. We have had enough of the dark and tough flirt with dystopia and ask ourselves out loud: how in heaven's name can we come through this conservative and fear-driven period together?

STRP explores scenarios for a positive future in 2019 and 2020. We will guide you through a time in which technology seems to offer the solution for everything, and doom-scenarios are leading.

Festival 2019
STRP Festival takes place from 30 March to 7 April in the Klokgebouw in Eindhoven.
During STRP Festival 2019 you will meet artists and activists, thinkers and doers, who focus primarily on imagination, and as such are able to give shape to inspiring alternatives. For 10 days you will be immersed in visual art, exciting technological perspectives, performances, lectures and open discussions.
Expo & Performance
National and international artists imagine a possible future and make ground-breaking proposals for a new internet, for how we can once again come into contact with our own bodies and for a renewed relationship between ourselves and nature. They introduce a virus that can bring people closer together, create new rituals and together with the audience and the newest technologies, visualise how our future world could look, feel and smell.

Conference & Dialogue
Together with Fontys, STRP is organising a dynamic, two-day conference programme in which the speakers share new inspiration, new images and new ideals that we so desperately need to build a hopeful future. There is no stateliness at STRP FESTIVAL 2019. We present a lively programme with keynotes, panels, performances, encounters with artists and tours through the exhibition.
3 April: Positive Futurism
Can we make the future predictable and, transcending fear and nostalgia, give our imagination the space to think of new scenarios? During day 1 of the conference & dialogue programme we will discuss, with the guests and audience, which conventions we should renounce once and for all in order to think beyond the here and now.

4 April: The new internet
There is nothing more left of the original promise of the internet as a public domain where non-profit information is shared worldwide. How can we organize the power of online communities in a noncommercial way, how can we become boss of our own data? Can we build our own internet?
STRP Share
During STRP Festival, children, young people and the elderly will have the chance to go on their own quest to discover what our future world could look like. We challenge you to be unafraid to explore things, to experiment and to trust your intuition. Creativity is the key to get to work with questions regarding technology in our future. Be informed, amazed and inspired. STRP Share shows that creative technology and working on your own creative development is not only useful, but also really great and challenging.
The STRP Share programme consists of:
A tour through the expo and workshops for students from primary and secondary education and MBO,
A tour & talk for teachers in primary and secondary education and MBO,
A tour through the expo for seniors (55+)
In the weekends of STRP Festival, STRP Share will be organising free tours and workshops for young and old.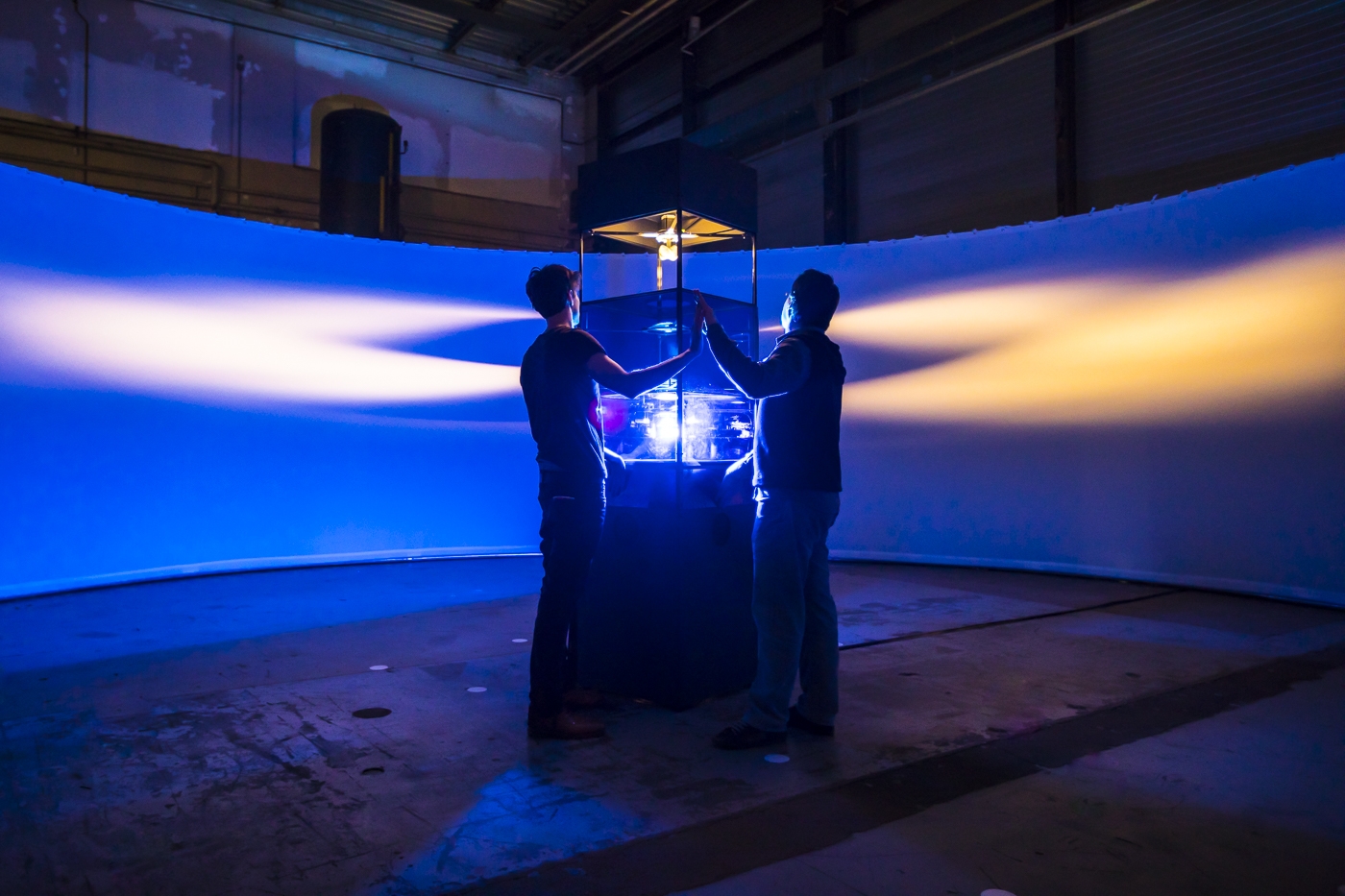 Calling all heroes
The beating heart of STRP festival are our volunteers. Every edition a large group of volunteers work together to make this festival a success and to immerse the visitor in art and technology.
As a volunteer you are well taken care of: a good atmosphere, food, drinks, the T-shirt and of course a banging end party are part of that. Of course you get access to the event. You can also count on the volunteer reimbursement (23 years and older 4.50 p / h, 16-23 years 2.50 p / h).
Questions: steffie@strp.nl, or register immediately!

Colophon
Director
Ton van Gool

Deputy Director
Gieske Bienert

Curators exhibition
Gieske Bienert, Juliette Bibasse, Ton van Gool

Curators conference
Gieske Bienert, Ton van Gool, Fontys University of Applied Sciences Creative Economy*

Curators performances & music
Gieske Bienert, Elvin Usidame

Head of Education
Shirley Hendrikse

Head of Production
Suna Karaca

Producers
Danielle Thomas, Bram Snijders, Steffie van den Tillart, Tineke de Mug, Marco Gelissen, Jan Dams, Laszlo Gimenez, Martin Schuurmans, Jelle van Brakel, Marcia ter Wee, Hans Mulder, Juliette Bibasse

Office Management
Ayla de Wit

Marketing & Communications
Fannie Groenen, Gisèle Mambre

Design & Campaign
HeyHeyDeHaas

Website
HeyHeyDeHaas, Unfolded

Interns
Angelina Nikolayeva, Mirte Jacobs, Yoshua Nahar, Aaltsje Hoekstra, Teun Merkx, Lisa Burger, Erik van Overbeek, Henriette Wachelder

Supervisory Board
Carlo van de Weijer, Eric Liebers, Lorna Goulden, Tom Ketelaar

Advisory Board
Règine Debatty, Chiel Kattenbelt, Juliette Bibasse

*The conference program on 3 and 4 April was established in collaboration with Fontys University of Applied Sciences.

Partners

Main Partners
Gemeente Eindhoven | Stichting Cultuur Eindhoven | Provincie Brabant | Brabant C | Stimuleringsfonds Creatieve Industrie | Fonds21 | VSB Fonds | Prins Bernard Cultuurfonds | Mondriaan Stichting | Fonds Podiumkunsten | Park Strijp Beheer | Woonbedrijf | Eindhoven365 | Sint Trudo | Fontys University of Applied Sciences | Creative Europe

Creative Partners
MU | Tanzhaus NRW | Abandon Normal Devices | Transmediale | The Influencers | CCCB | RaRaRadio | Het nieuwe instituut | Stereolux/Scopitone | PublicSpaces | OWOW | HeyHeydeHaas